Inspire Others To Give Back
You can make a big difference at Emory by being involved in our annual Day of Giving on March 22-23, 2023. How big? Last year we raised a record-breaking $1.3 million from over 4,000 donors. Nearly 25 percent of online donations were inspired by volunteers.
Whether you're able to invest minutes or hours, you can help raise funds for the areas of Emory that are most meaningful to you. More than $100,000 in bonus funds are up for grabs, including challenges just for registered fundraising volunteers.
Emory will provide a toolkit, plus make it fun with special competitions and Emory swag.
What do I need to do to be an Advancement Volunteer?
Register as an Advancement Volunteer! Nominated individuals will receive an email invitation, or enter your email in the "Become an Advancement Volunteer" box to get started.
Make a gift during Emory Day of Giving (March 22-23, 2023)! Using your personal referral link, direct your donation to what matters most to you.
Invite your network to join you in giving! Send personal messages via email, text, or social media. Use your Advancement Volunteer giving link to track your progress.
Share on social media with #EmoryDayofGiving. Sample messages and graphics will be provided via a digital toolkit.
Who should be an Advancement Volunteer?
Anyone can be an Advancement Volunteer! Just follow the steps above to join fellow faculty, staff, alumni, students and friends. Your commitment to the Emory community makes you an ideal partner to amplify this digital giving event and support your favorite Emory causes, scholarships, academic departments, and campus experiences. Your personal outreach is one of the most effective fundraising methods, which makes you one of the most important people in guiding others through the decision to make a gift.
Why should I be an Advancement Volunteer?
Just a few minutes or hours of your time can help raise funds for the areas of Emory that you care about the most. Once you complete registration as a Day of Giving Advancement Volunteer, you will receive a personalized link to track who makes a gift. These gifts, counted through the give day platform, can earn you additional dollars for your favorite Emory area!
Inspiring others to give back can also earn you swag! Advancement Volunteers who complete platform registration and bring in at least 1 gift via their personal referral link will receive an Emory neck gaiter.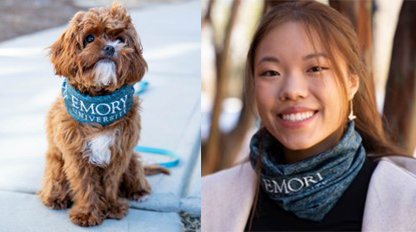 Questions? Contact annualgiving@emory.edu.